No one wants a bag of crap on their doorstep. If you're thinking about email marketing in the wrong ways, you're essentially delivering bags of crap to people's virtual doorsteps. No bueno.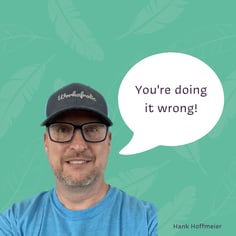 Luckily, we have the Senior Manager of Client Solutions at iContact, Hank Hoffmeier, on the podcast to talk shop with CEO and Little Bird Momma, Priscilla McKinney about the top things people are doing wrong with email marketing. Your hazard lights will be flashing. Your red flags will go up left and right. More than a few lightbulbs will go off.
After all, you don't know what you don't know.
Do you have a thing or two to learn about:
Automation?
Segmentation?
Split Testing?
If your answer was yes, yes, and more yes then you're not alone. The world of email marketing is constantly shifting. We all have to keep our eyes and ears to the ground. Hank's bottom line? Simplify everything. Don't overthink it. There are certain things that need to be checked off your list, like email authentication, sender policy framework (SPF), and Domain Keys Identified Mail (DKim). But there are also important strategic elements to consider, like a cadence that works for your audience (not for you!), and providing value with each and every email.
As Hank says, "Stop thinking about it from a marketer's perspective." You have to think about email marketing from your client's point of view.
For more from Hank, download his freemium 501 Examples of Good and Bad Subject Lines.
Shoutout to this episode's sponsors Fieldwork and CloudResearch!
Searching for a research partner to handle the details of your next qualitative project? When we say Fieldwork can handle it all, we mean it. From world-class facilities to low-incidents recruitment, their team of experts handles the details so you can stay focused on the research. Say goodbye to traditional focus group rooms and recruitment tactics. As market research has grown from the standard focus group to incorporate other innovative methodologies and technologies, Fieldwork has expanded along with it with facilities nationwide and sophisticated global recruitment services. Their detail-oriented staff partners with you to achieve great insights. Focus on the research Fieldwork will do the rest.
Do you know what "lies" behind your data? When the truthfulness of respondents is in question, the entire survey process is compromised. At CloudResearch, we're exposing the hard truth about online survey fraud. Join us in an Insights Association webinar that pulls back the curtain to reveal shocking, never-before-seen footage from actual fraudulent click farms. You'll see fraud as it truly happens with your own eyes, and learn how Sentry stops fraudsters in their tracks. Join us, November 3, 2022. Register now.
If you're ready to get your social media act together, you might consider our 12-week Social Influence course. We would be happy to discuss what digital transformation could look like for your team!
On the hunt for powerful content marketing and strategy resources? Come under our wing.